During the summer, Chase worked at the YMCA Summer Camp for a few years, but he would never forget the summer of 2011. After Kelly applied for many internships during graduate school, only to have countless options fall through, she finally got one at the YMCA Summer Camp. Although they are not sure if it was love at first sight, there was definitely some amazing magic that happened that summer. They began building on their friendship the whole summer and later moved into a relationship. From there, the rest is history.
Kelly and Chase aren't your average couple, after all, their first date included exploring Oakland Cemetery in Atlanta, so they decided to have a romantic destination farm wedding and get married on a beautiful farm nestled in the Northwest part of Georgia. The venue, simply known as The Farm in Rome, Georgia, was the perfect fit for their big day. One thing about The Farm is that there is little to no cellular coverage. As a matter of fact, I think out of everyone, maybe two people had any type of coverage the whole day. This made communication and keeping things organized a little more difficult.
Even without phone coverage, we were still able to make everything happen perfectly and on-time. To make it all a little trickier, both Kelly and Chase, as well as a few others at the wedding were twins! Once everyone was dressed, it was pretty easy to spot who was who. Lol. The Farm has A LOT of property and things are very spread out so we had to drive a good distance to meet with Kelly and the girls while they were getting ready. In case you were wondering about Kelly's stunning wedding dress, it's a Monique Lhuillier. :) The guys got ready a little closer to the main ceremony site which was convenient when it was time to meet for the ceremony. The ceremony itself was held very deep in a wide-open field making it the perfect location.
After the ceremony everyone took time to recover and touch up from the scorching hot ceremony before meeting back up to finish the portraits. We then all moved to the reception location a little ways down the property at the main barn area. Once Kelly and Chase were introduced and had their first dance, everyone sat down to dinner. Instead of having everyone sit at separate tables, everyone sat at the longest table I've ever seen! Seriously…it was looooonnnnggggg. I thought this was a great touch, keeping everyone close for conversation and connection. 
Once dinner was over, everyone was excited to eat cake, let loose, and enjoy each others company. Black Tie Events kicked off the dancing and kept it going long into the night. One of the most important things to Kelly and Chase about their wedding was being surrounded by loving family and friends. I think they accomplished that well.
Congratulations to Kelly and Chase! Here are a few of my personal favorite photos from their big day. :D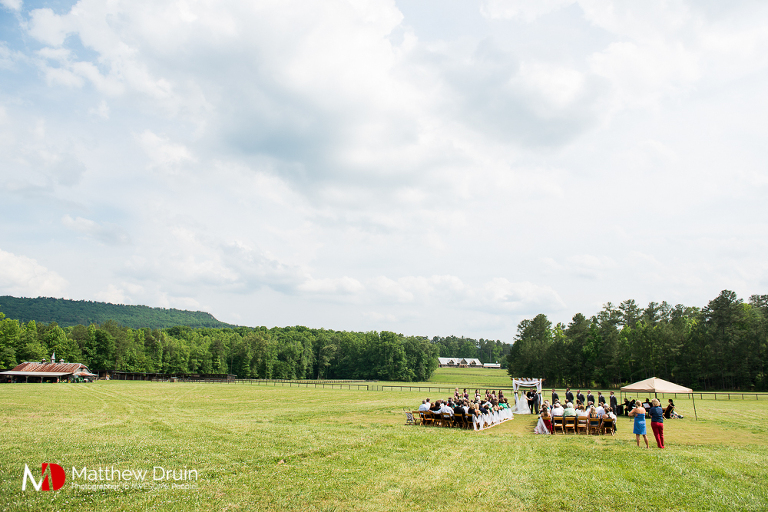 My name is Matt Druin and I'm an Atlanta wedding photographer that specializes in unique, offbeat weddings for all awesome people! Not only do I shoot amazing Atlanta weddings, but I also travel frequently for destination weddings, and weddings all over, with no travel fees in the US for amazing wedding photography. I also shoot Atlanta engagement sessions for newly engaged couples. I've even been known to travel, and far, for engagement sessions too!
Contact Atlanta Wedding Photographer Matthew Druin
Email [email protected]
Phone 678-551-0115
Address 225 Parkway 575 #66 Woodstock, Georgia 30188
Portfolios www.matthewdruin.com
IF YOU LIKED THIS POST, YOU MIGHT LIKE THESE OTHER POSTS: