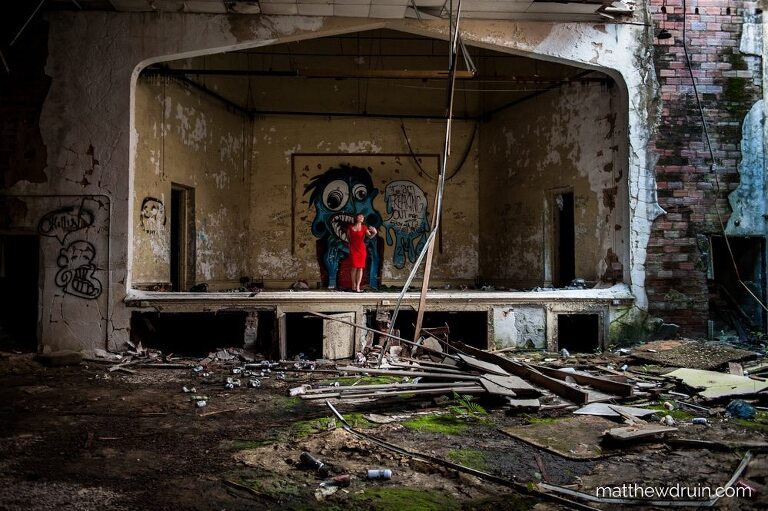 I had the chance to work with Lydia to create some portraits that were a little commercial focused and had a mix of a horror movie like feel to them. Since it is October and that means Halloween, it seemed very fitting. We chose an abandoned building in Atlanta to use as our scene. We then made our way around the old building carefully avoiding minor dangers like nails, glass, loose floors, and other things. I explore a lot of abandoned locations as a personal hobby. I know, weird hobby, but I love the old history, decay, and architecture. Plus, it's a great adventure and normally ends up in another cool location to add to my shoot list. Anyways, I was surprised not to find any needles or other drug paraphernalia except some old beer cans and whiskey bottles. 
I really liked this particular building because it offered a great deal in the way of different looks to the environments. Diversity in locations is always awesome. It also offered a lot of great natural light to use and mix with off-camera lighting to create really nice dramatic looks which I particularly love. We got lucky with some interesting graffiti including the word FEAR randomly written on one of the walls in a hallway. It played in nicely with the horror movie feel of the images. Here are a few of my personal favorites I think are boo-rific! 
My name is Matt Druin and I'm an Atlanta portrait photographer that specializes in unique portraits for all awesome people! Not only do I shoot amazing Atlanta high school seniors, but I also shoot Atlanta editorial portrait assignments and commercial portrait projects as well.
Contact Atlanta Portrait Photographer Matthew Druin
Email [email protected]
Phone 678-551-0115
Address 225 Parkway 575 #66 Woodstock, Georgia 30188
Portfolios www.matthewdruin.com
IF YOU LIKED THIS POST, YOU MIGHT LIKE THESE OTHER POSTS: