Lakeshia and Andrew met at Lakeshia's best friend's 25th birthday party. The party was held at Mixx Lounge Atlanta and when Andrew walked in to the room, Lakeshia ended up in her own world. While all of her friends were enjoying the party, Lakeshia spent her time cuddled up on a couch with Andrew. After the party, Lakeshia and Andrew had their first date the following Tuesday. Although Andrew's date plans didn't go 100% as planned, Lakeshia was on cloud 9 the whole evening.
When the time came for the proposal, Lakeshia already had some clue it might happen since she was snooping around and saw engagement rings bookmarked in Andrew's browser. She had no clue when it would happen so she spent some time impatiently waiting. And waiting. Annnnd waiting…..
Andrew took off work the whole week of Christmas to make sure they were able to spent the holidays together. Typically Andrew doesn't have a ton of holiday spirit, but this year he was adamant about having Christmas dinner together. He planned a beautiful, romantic dinner at the Sundial restaurant in Atlanta.
As with many guys, Andrew was really nervous the whole night. Lakeshia thought something was up, but Andrew waited until the end of the night before popping the question. As they approached the exit of the restaurant they ended up by the lobby's large Christmas tree. Andrew begun to get down on one knee and Lakeshia freaked out and quickly moved them to the couches to avoid all of the attention from the other guests. Lakeshia obviously said YES!!!
Their wedding is going to be awesome and is going to feature a rustic feel with anime and a CMYK color scheme. They are both creatives, Andrew being a chef and Lakeshia being a web designer, so anime and CMYK made perfect sense. For all of you non-techies out there, CMYK is the color model used by printers. You might know it better as the Cyan, Magenta, Yellow, and Key (black) ink cartridges you annoyingly have to change what seems like weekly. Being a fellow nerd myself, we are a perfect fit and I'm super excited about their wedding! :)
Lakeshia and Andrew thought long and hard about their engagement session. Anyone that knows me and my work, already knows I don't like boring. I love to tell stories and want people's engagement sessions to really be unique, mean something to them, as well as their story as a couple. They really wanted something that says Atlanta, their home town, so they decided on the Georgia Aquarium. I was really excited since the Georgia Aquarium has been one of the locations I've always wanted to shoot at.
Jessica and I met with Lakeshia and Andrew at 10am at the aquarium. Being a Saturday, it was packed already, but we made our way around the different exhibits. Due to all of the sheer amount of people, sometimes we had to wait for the perfect time to get the right photo at some of the locations. Other times, the number of people really helped us out by making the photo that much better. Even though Jessica is currently halfway through her pregnancy right now, she was a huge help in making it all happen. 
Here are some of my favorite photos from Lakeshia and Andrew's engagement session at the Georgia Aquarium!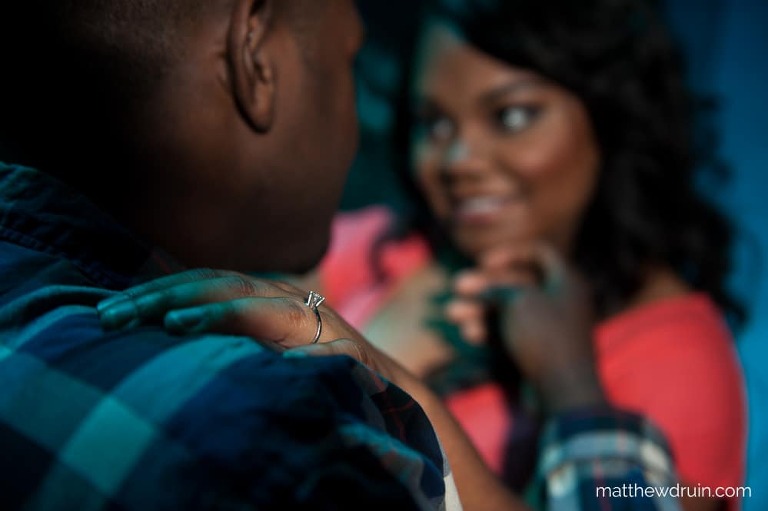 My name is Matt Druin and I'm an Atlanta wedding photographer that specializes in unique, offbeat weddings for all awesome people! Not only do I shoot amazing Atlanta weddings, but I also travel frequently for destination weddings, and weddings all over, with no travel fees in the US for amazing wedding photography. I also shoot Atlanta engagement sessions for newly engaged couples. I've even been known to travel, and far, for engagement sessions too!
Contact Atlanta Wedding Photographer Matthew Druin
Email [email protected]
Phone 678-551-0115
Address 225 Parkway 575 #66 Woodstock, Georgia 30188
Portfolios www.matthewdruin.com
IF YOU LIKED THIS POST, YOU MIGHT LIKE THESE OTHER POSTS: