I know wedding planning can be hard and choosing the perfect wedding venue is an important first step in creating your dream wedding day. Over the years, we have had the pleasure of shooting a lot of weddings at some of the most amazing venues, so to help you choose the perfect wedding venue, here are some of our thoughts on The Farm in Rome, Georgia.
If you are looking for a rustic, untraditional farm in Georgia, The Farm in Rome would be a great place to start looking. Located in the foothills of the Appalachian Mountains, The Farm offers a lot…well almost endless potential, for creating your amazing wedding day. There is a ton of room for you and just about a limitless number of guests. One of the best parts about The Farm is it's family owned and operated so it's a lot more personal than other venues might be.
The vast property easily allows you and your partner to get ready in different areas of the farm with plenty of room for all of your bridesmaids, groomsmen, and/or family. This also allows the perfect setup for a first look allowing everyone to get into position in a variety of different areas. If you plan on keeping it a little more traditional and waiting to see each other at the alter, the distance between the two getting ready locations will allow you to still capture some great portraits with your wedding parties without worrying about seeing each other before the ceremony.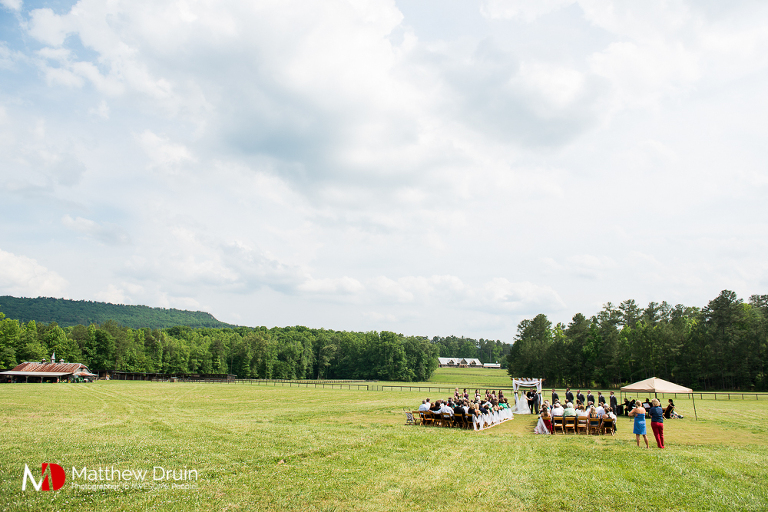 When it comes to the ceremony, there are a lot of options as far as where the actual ceremony happens. The few ceremonies that I have had the pleasure to shoot, were all held in the middle of the wide open field area located between the main barn and the bridal house.
The barn will be able to accommodate all of your friends and family with both inside and outside options with plenty of room for eating, dancing, roaming, and just about anything else you'd want. The service is awesome as well. Every time I have had the opportunity to photograph a wedding there, Dixie (owner) has been more than happy to help and assist with anything that was needed by our team, the families, or bridal parties.
One tip I can give you is to seriously consider having walkie talkies. One of the best features of The Farm is its romantic isolation from everything. On the downside, that also includes most cell connections. We had 1 bar with Verizon, nothing with AT&T, and really weak roaming coverage with Sprint. Basically, we had no cell communication.
You can see a beautiful example of this beautiful Georgia wedding venue on my blog at:
A Destination Farm Wedding In Rome Georgia
If you are looking for something unique, isolated, and outdoors in Georgia for your wedding venue, The Farm is a great location to consider which you can visit their website here. Also, since we do so many weddings and do not charge travel fees anywhere in the US, you should hire us, so contact us now!
My name is Matt Druin and I'm an Atlanta wedding photographer that specializes in unique, offbeat weddings for all awesome people! Not only do I shoot amazing Atlanta weddings, but I also travel frequently for destination weddings, and weddings all over, with no travel fees in the US for amazing wedding photography. I also shoot Atlanta engagement sessions for newly engaged couples. I've even been known to travel, and far, for engagement sessions too! Plus, we have our amazing photo booth, Booth Riot!
Contact Atlanta Wedding Photographer Matthew Druin
Email [email protected]
Phone 678-551-0115
Address 225 Parkway 575 #66 Woodstock, Georgia 30188
Portfolios www.matthewdruin.com
IF YOU LIKED THIS POST, YOU MIGHT LIKE THESE OTHER POSTS: