From the very first time I met Fran and Mary over drinks to chat about their Amicalola Falls wedding, I could feel the love these two amazing people had for each other. We didn't get 10 minutes into our conversation before I knew I wanted to be a part of their love story. That same powerful feeling was felt even more during their
engagement session
. Their wedding day was no different. From the second I walked into the lodge where they were getting ready, you could feel the overwhelming joy and excitement that seemed to radiate everywhere. After getting ready we took advantage of the isolated nature
Amicalola Falls
offered for their first look and some portraits along the mountainside. 
What followed was an amazingly intimate ceremony overlooking the incredible mountain landscape witnessed by Fran and Mary's closest family and friends. Plenty of tears flowed from what seemed like everyone that attended including Fran and Mary.  Things quickly popped off with overflowing drinks, laughs, and conversation after the ceremony. As the sun began to set, the landscape turned into a beautiful glow of gold that overlayed the land. Of course, we took advantage of it before heading back into the reception. Touching speeches, lots of hugs, and more tears finished off the night. Here's a little taste of Fran and Mary's unforgettable Amicalola Falls wedding. Thank you, Fran and Mary, for trusting me with your memories and allowing me to document your celebration!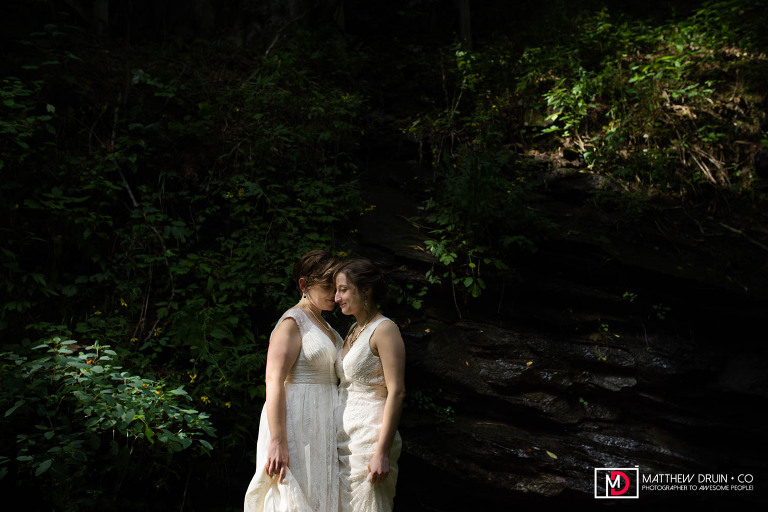 My name is Matt Druin and I'm an Atlanta wedding photographer that specializes in unique, offbeat weddings for all awesome people! Not only do I shoot amazing Atlanta weddings, but I also travel frequently for destination weddings, and weddings all over, with no travel fees in the US for amazing wedding photography. I also shoot Atlanta engagement sessions for newly engaged couples. I've even been known to travel, and far, for engagement sessions too!
Contact Atlanta Wedding Photographer Matthew Druin
Email [email protected]
Phone 678-551-0115
Address 225 Parkway 575 #66 Woodstock, Georgia 30188
Portfolios www.matthewdruin.com
IF YOU LIKED THIS POST, YOU MIGHT LIKE THESE OTHER POSTS: