When Holly and Jason asked me to photograph their Louisville wedding, I couldn't have been more thrilled and honored. Holly and I met many years ago in 7th grade along with my now wife Jessica. To be able to grow up with Holly, watch her and Jason's relationship flourish, and now be a part of something so incredibly special overwhelmed me with joy.
Holly and Jason's wedding day started with a relaxed pace of hair, makeup, laughter, and excitement. Megan, another one of our childhood friends, had the honor of being Holly's Matron of Honor which made it all more special as we laughed and talked about our childhood years. Jason got ready with his best man JR with an equal amount of excitement. 
After getting ready we all made our way across the busy downtown street to Patrick O'Sheas so Holly could have an emotional first look with her father, Afterward, things began to move much more quickly. The ceremony was to be held on the rooftop. Unfortunately, it began to rain moments before. We waited 10-15 minutes to see if things would let up before all of the chairs were brought inside and dried off. As soon that was completed the rain died down so Holly and Jason opted to move things back to the rooftop but everyone would stand. 
The ceremony was just as emotional as the rest of the day. Holly's father fought back tears by making silly faces before the two made their way down the aisle. Once at the altar, Jason's tears began and smiles filled the rooftop. Tears of joy continued throughout the vows from everyone and Holly and Jason ended the ceremony with howls and a kiss. The reception was thick with excitement, heat from dancing, and flowing drinks. Everyone filled the dance floor and small gatherings began outside on the roof so people could cool off and talk. 
Holly and Jason, what can I say? Thank you so much for trusting me with your incredible day and allowing Jessica and I to be a continued part of your lives. We love you!
Lastly, thanks to all the great vendors who helped make Holly and Jason's Louisville wedding totally rad: 
Ceremony & Reception Venue: Patrick O'Sheas
DJ: Kim Sorise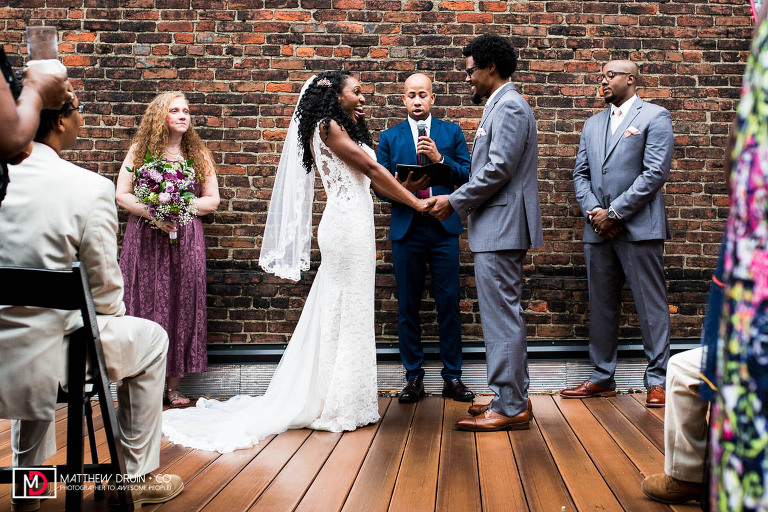 My name is Matt Druin and I'm an Atlanta wedding photographer that specializes in unique, offbeat weddings and elopements for all awesome people! Not only do I shoot amazing Atlanta weddings, but I also travel frequently for destination weddings including Louisville, Kentucky, and weddings all over, with no travel fees in the US for amazing wedding photography. I also shoot Atlanta engagement sessions and destination engagement sessions for newly engaged couples. I've even been known to travel, and far, for engagement sessions too!
Contact Atlanta Wedding Photographer Matthew Druin
Email [email protected]
Phone 678-551-0115
Portfolios www.matthewdruin.com
IF YOU LIKED THIS POST, YOU MIGHT LIKE THESE OTHER POSTS: