I had the pleasure to join Aubrey and Dante, along with their family and friends, at their beautiful Hilton Head beach wedding in South Carolina. I arrived mid afternoon just as Aubrey and her bridesmaids were getting hair and makeup. After photographing the details, I spent the majority of the time capturing all nervousness, excitement, laughter, and tears that filed the room.
Afterwards, I headed over to join the guys, which was a short twelve minute drive away. The guys were a lot more chill just relaxing and cracking jokes as they got ready. Once the guys were finished getting ready, I headed back over to the girls to capture Aubrey putting on her amazing wedding dress and make the final touches. A few more tears were had as Aubrey gave her mom a special gift.
Once everyone was ready, we all made our way across the island to a section of dunes on the beach for the ceremony. There was only short timeframe before an isolated thunderstorm was due to arrive. The wind was roaring through the coastline pretty aggressively, but everyone seemed to enjoy the hard breeze. Dante watched intently as Aubrey made her way down the beach with her father at her side. The ceremony was short and sweet with a blending of families symbolized by a sand ceremony, which was very fitting for a beach wedding.
After the ceremony we headed off the beach and more inland for portraits. The rain held off, but the wind was nothing to contend with. We made our way around some of the greenery of the island and a few bridges before returning to the reception area where cocktails were already flowing. After a little dinner the party started quickly. Everyone was dancing and hopping in and out of the Booth Riot! photo booth all night.
You can also check out Aubrey and Dante's Atlanta engagement session on my blog at A Basketball Themed Atlanta Engagement.
Here are a few of my favorite photos from Aubrey and Dante's awesome Hilton Head beach wedding.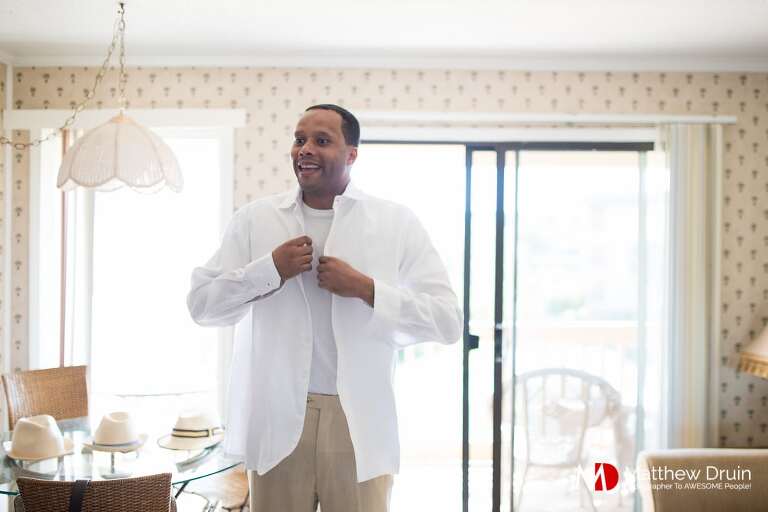 My name is Matt Druin and I'm an Atlanta wedding photographer that specializes in unique, offbeat weddings for all awesome people! Not only do I shoot amazing Atlanta weddings, but I also travel frequently for destination weddings, and weddings all over, with no travel fees in the US for amazing wedding photography. I also shoot Atlanta engagement sessions for newly engaged couples. I've even been known to travel, and far, for engagement sessions too!
Contact Atlanta Wedding Photographers Matthew Druin & Co
Email [email protected]
Phone 678-551-0115
Address 225 Parkway 575 #66 Woodstock, Georgia 30188
Portfolios www.matthewdruin.com
IF YOU LIKED THIS POST, YOU MIGHT LIKE THESE OTHER POSTS: